In draft evaluation, they said deciding "who is good at what" is the easy part. Cade Cunningham is a good passer, Moses Moody is a good shooter, Evan Mobley is a good defender, the list goes on. At this point, simply stating a prospect and their skills isn't enough. I like to believe that society has progressed past the need for scouting reports in the form of NBA2K ratings. You shouldn't come here to learn what prospect x's two best skills are, because what does that really tell you? Instead, we should be talking about what skills matter, and in the context of the current NBA. That brings us to the holy grail that is scouting philosophy. In the past, I've written a couple of pieces that gave insight into my personal philosophy. Most recently, highlighting processing speed and its importance. I'm constantly watching basketball, therefore my philosophy is subject to change. In the past year, the most drastic change in my philosophy has been my newfound resentment for heliocentric offenses. Instead, you need multiple players who can put pressure on the defense in a wide variety of ways. Now, it's necessary to acknowledge the risk that comes with chasing a ball-handling heavy lineup. Typically, players who can be effective off the bounce are smaller, and sometimes force you to give up points on the defensive end. However, it's more than possible to strike a balance. My last draft piece studied the value of second side creation, and that was just scratching the surface of where my head is currently at. The Utah Jazz have taken the NBA by storm. Their democratic offense that employs multiple handlers at once has been nightmarish for defenses. Of course, it helps when you have Rudy Gobert to clean up everything on the other end, but nonetheless, their offensive effectiveness stands. Instead of the PnR heavy offense that reeks of predictability, the Jazz win with movement and consistent attacks, always keeping the defense on edge. This isn't to say that Utah doesn't run any PnR, because that's simply not true. But, the common action is a weapon in their arsenal instead of the entire arsenal, and there lies the difference. I'm also a very big advocate of three-guard lineups. Oklahoma City's three headed monster of CP3, SGA and Schroder produced a very efficient offensive output while sharing the floor together last year. CP3's otherworldly guard defense and SGA's size enabled their versatility, but the principle of having multiple threats off the bounce proved to be effective. Deep into the playoffs, matchups become hunted and guards become more difficult to hide. Sure, three guard lineups probably aren't the concrete long term solution, but how can we maintain the philosophy behind it? The answer is wings. Size and skill is the most valuable combination on the planet, it's that simple. I'm normally against placing every prospect into archetypal categories, but wings with ball skills should never go overlooked. The evaluations usually aren't clean cut, but anyone who has the potential to add juice off the dribble while maintaining floor spacing and defensive prowess won't be taken for granted by my eyes. Now enter: Franz Wagner.
Decision Making and Intellect
Franz isn't a freak athlete and his box score numbers don't necessarily jump off the screen. With that being said, he seems like a prime candidate to wear the "high floor, low ceiling" hat during draft season. As you can probably infer by my infatuation with him, I personally don't think that's the case. I want to start off by establishing his foundation, which I also believe is his floor impact, and then gradually expand on the ceiling as we go on.
On top of being skilled, Franz is a very smart basketball player. When you combine his intellect and IQ with his size and movement skills, you're looking at an impact player off the bat. He's played on the wing for Michigan this year, which has given him versatile usage whenever he takes the court. Offensively, he weaves between different play types, winning on and off the ball in a handful of ways. Defensively, he spends time sliding with guards on the perimeter, shouldering low man responsibilities in help and even playing drop coverage in spurts. While he certainly impacts the game all over the court, by no means is he jack of all trades master of none. Franz's unique frame, skillset and approach provides a niche, one that all 30 teams should love to have.
Playing on a balanced Michigan team has brought out the best in Franz. Some will point to his lack of growth in the box score, making rather marginal improvements in simplistic statistics. However, his impact looks entirely different on film. Franz has certainly showcased his on ball chops, and we'll get to that later. For now, I want to speak on his ability to add value within a team context, on both sides. At the moment, he possesses a 19.6 USG%, which is pretty minimal for a lottery prospect. For context, both Tennessee guys have eclipsed 25%, and Bouknight, Cooper and others have even surpassed 30%. This isn't a knock on Franz that he can't handle, but rather to emphasize that he still makes a positive impact without needing the ball.
Defensively, Franz is basically flawless. I'll dive into the switchability and stocks later on, but for this paragraph, I want to highlight his reliable team defense. He always guards with his head on a swivel, and that's one of the best compliments you can give. Maintaining routine help responsibilities is elementary for him, as he rarely misses any form of rotation. Despite being someone who consistently creates events, I'm always impressed with Franz's discipline.
Scalable Offense
In the first paragraph, I talked about Franz's ability to work without having "plays drawn up" for him. His comfort working on and off the ball is enticing, and he's consistently looking to make an impact when he doesn't have the rock. Whether it's a cut, relocation or impromptu screen, Franz has a nose for making positive plays. But, he also has legit capability as a handler. Cornering him like EuroLeague Deni and denying him on-ball reps would be a crime to both him and the team. Instead of breaking up his offense into cookie cutter "on and off ball" categories, I wanted to take a different approach. By addressing his entire offensive package at once, I want to highlight the lineup versatility he brings to the table. Franz can initiate pick and rolls, attack closeouts and space the floor. His wide range of ways to impact the game enables his scalable offensive usage, which shouldn't be taken for granted at 6'9." You don't have to worry about where he fits, but you do have to consciously put him in a position to balance his on and off ball diet.
Before we dive into the PnR handling, I want to hit on his effectiveness while attacking closeouts. Franz isn't Joe Harris, but his volume and increasing percentages have been enough to garner closeouts from the defense. His game off the bounce has limitations, most notably in iso situations, where he struggles to create seperation. However, his handle is absolutely functional, and allows him to be a big time threat while attacking a defense that's already scrambling. His composure on the ball is beyond noteworthy, especially with his size. Whenever Franz gets downhill towards the rim, he never seems sped up, always maintaining his signature pace.
Now brings us to the true separator, his PnR prowess. Franz isn't necessarily running a heavy volume of pick and rolls, but he has absolutely made the most of the ones he does get. While operating as the handler in this action, Franz has been able to show his scoring and playmaking off the bounce, in which he excels in both areas. Piggybacking off of his unique driving style, I'll start by examining how that enables his PnR scoring.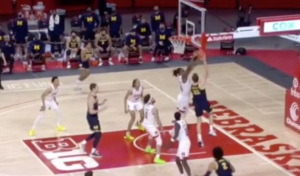 For 99% of other PnR handlers, getting a look at the rim from this angle is mission impossible. Franz is comfortable enough to fully extend on the move, allowing him to get it over the shot blocker and onto the glass. As you saw in the clips above, this is a common finish from him, and anecdotally, it's definitely efficient. Despite not having top tier athleticism, Franz is shooting 61.5% at the rim in the half court — which ranks in the 69th percentile nationally. I've written about the idea of compensation, and I think it's safe to say that his touch and creativity as a finisher makes up for the fact that he probably won't be invited to the dunk contest.
After shedding light on his scoring, it would be irresponsible to ignore the other side of the coin — which is arguably more impressive. Franz ranks in the 81st percentile as a PnR handler, and no, that isn't among 6'9" combo forwards. One major culprit for that impressive output is his passing within the action. Franz's functionally off the live dribble is very impressive and undoubtedly conducive to putting points on the board. On top of that, his flashes of manipulation also hint at an untapped playmaking ceiling.
It was fun getting lost in the weeds of Franz's game off the dribble, but we still have to be realistic here. Barring an unexpected development, he probably isn't going to be a big wing that carries a heavy offensive load. Instead, I'm pitching a scalable prospect who can comfortably intertwine between on and off ball actions, while consistently making an impact. I already noted that Franz has a knack for making positive plays, and that's on full display while working off ball. His court mapping and understanding of defensive rotations are his biggest assets in this regard, as they allow him to stay one step ahead and put himself in advantageous positions.
Shooting
For any player who isn't relied upon for heavy doses of creation, it's extremely important to maintain floor spacing. If the defense doesn't have to respect you from behind the arc, you're not a neutral, you're actually hindering overall offense. Now, there is also a tangible difference between being a passable shooter and demanding closeouts. Obviously, the latter is much more valuable, especially when you have the juice that Franz has off the bounce. After a slow freshman year, where he shot just 31% from behind the arc, Wagner has upped his efficiency. Despite being on moderately lower volume, his sophomore campaign has been a huge success in this regard. He's now up to 37% from deep, and has shown flashes of versatility with some movement and pull-up attempts. Anecdotally, it was hard for me to ever doubt Franz as a shooter. While he does have a slightly lower release point, it hardly limits his functionality given his height. Mechanically, everything is balanced. He has a solid base that generates good power, and also avoids and overcompensation. His shooting arm does get a little chicken-wingy as opposed to the textbook 90 degree angle, but I don't think it should really concern anyone long term. Finally, his follow through is very pronounced, as he thoroughly snaps that right wrist into place and occasionally holds it for the cameras. Franz is capable as a spot up shooter, but I want to specifically highlight his versatile makes, and why they could be beneficial from a functionality standpoint. Due to his strengths, Wagner would thrive in a movement-heavy democratic offense, similar to what I described in the introduction. I noted how it wouldn't be ideal to pin him in the corner, but that also requires him to be capable of shooting on the move.
Defensive Mastery
Franz is one of the best defenders in the entire class, and I don't really think it's up for debate. His length and lateral mobility are overwhelming at the point of attack. His instincts and timing enable him to be an extremely impactful team defender. Personally, I've had trouble identifying a real weakness for him at this end. Wagner can occasionally get overpowered by bigger 4s, but that's about it. If whoever drafts Franz is looking for instant impact, I think it's safe say they'll get it on the defensive end. He has instant processing speed, movement skills and length — you can't ask for much more in the current NBA.
Wagner always impresses when matched up with smaller, quicker players at the POA (point of attack). He certainly gives up some speed, but he's able to make up the ground with his mobility and strides.
In our most recent pod at Prep2Pro, we talked about defensive ground coverage. Specifically, we dove into what it takes to excel at this microskill. In the end, we walked away with a rare combination of smarts and tools, which fits Franz like a glove. He might not have run and jump athleticism — though he's no slouch — but he has functional length and mobility.
Franz is a world-class event creator in help, especially as the lowman. Again, I really want to emphasize his discipline. He rarely takes ill-advised gambles and most of his stocks come within schematic rotations.
Finale
When push comes to shove, it all comes down to team-building. Some organizations and evaluators are hesitant to spend a high pick on a (likely) star role player. But, let me counter. How many organizations have wasted years of their re-build swinging for their superstar, while passing on positive infrastructure pieces in the process? Better yet, how many organizations actually got their guy, but weren't able to realize his potential due to a lack of positive infrastructure already in place? Consecutively stockpiling good pieces, instead of constantly throwing hail marys for the next LeBron, should be less frowned upon in the team-building philosophical conversation. Spoiler alert: no team has ever gotten off the ground without good role players. Instead of getting your guy and building around him later, why not acquire impactful scalable players that will help insulate them from day one? Franz Wagner can play alongside anyone, and they'll genuinely be better off for it. Whichever organization recognizes his realistic ceiling and the value comes with it, will be immensely rewarded. Personally, I just hope they're within the top 10.