While consistently engaging in and consuming NBA draft discourse over the past few months, I've noticed a few "designations" that I think need to be seriously reconsidered. In this piece, I want to invoke some of my philosophy into readers and encourage them to adopt a more holistic approach, as that's how basketball truly is. The terms "on ball" and "off-ball" have bugged me the most lately and I'm going to tell you why — while making the early pitch for some 2021 prospects who I consider intriguing. Sure, are there players who hold more on ball responsibility, have a heavier diet of PnR reps and as a whole, have a longer leash with the rock in their hands? Of course. However, the floor consists of 10 basketball players, constantly moving around the court and weaving in-between on and off ball actions. These basketball players need to be competent and comfortable doing both, as the game changes so drastically on a possession-by-possession basis. If these "On/Off" designations were true, Matisse Thybulle would have certainly been worth a top ten pick, instead, he's struggling to crack Doc Rivers' rotation. These "archetypal designations" are an attempt to simplify the game, but in reality, it's being done in a falsified manner. When you turn on the NBA film, the idea of having a "primary initiator" run 75 pick and rolls while the "off ball" role players wait patiently for spot up threes or cutting windows, is a downright fallacy. Instead — other than a select few teams — you'll see an initial flow of movement, roping that said "off ball" player into the action. Whether it's a stagger screen, DHO or simple relocation, that player is now being thrusted into an "on ball" role. We're probably only eight seconds into the shot clock, and you can already see how that fallacy is indeed false. As I mentioned above, these are basketball players. Basketball players, who all have the opportunity to make plays on and off the ball on any given possession. Even on a possession where that primary takes it himself, unless he shoots or generates a direct look for his teammate, the ball is getting swung around, putting multiple players "on the ball." Instead of looking for an archetype to place each and every prospect into, evaluate them as players. Evaluate their skills, tools and mental approach as one big holistic application into the highest level of basketball. There isn't one way to skin a cat, and there certainly isn't one way to carve out a career in the league. While there are baseline skills, most notably shooting and team defense, that can elevate a prospect's initial case, checking one of those singular boxes simply isn't enough. Despite the popular (and untrue) narrative that it's a "one elite skill" league, the game isn't made up of micro skills. No prospect is perfect, and there will always be compensation within the lines, identifying where each prospect fails and how much ground that causes them to make up is essential. Some skills will provide more leeway than others, and those are unique to everyone. Personally, I subscribe to the philosophy that predictability is detrimental to all success in the NBA. In my opinion, the easiest way to avoid that is by having multiple competent creators, who can be relied on to manufacture offense. The caveat here is to maintain spacing and defensive capability, and it's definitely a thin line to walk, but when you strike the right balance, the returns are very valuable. With all that being said, I'm going to introduce four of my favorite "second side creation" prospects in this early season. While these prospects all *likely* have a flaw that prevents them from being an effective full-time offensive engine, they have a plethora of skills and traits that can be extremely impactful at the next level. Let's get into it.
Jared Butler, Going For Gamebreakers
Those of you who have been following me since last season know that Jared Butler is one of my favorite guards in the country. He was a first top 30 prospect on my board before withdrawing last year, and I had very high expectations for his junior. To my delight, Butler has met them and then some. He has made vast improvements in multiple areas, and looks every bit of a lead guard on the second best team in the nation. Standing at just 6'3" without overwhelming physical tools, Butler wins with sheer skill. His trademark trait is his handle, which is genuinely a special skill in my opinion, and truly unlocks the rest of his game. Butler isn't going to blow by defenders with straight line speed or standstill burst, but he will invite them onto his island, and hit them with quick cohesive combos that have their feet tangled in a knot. Unlike many shifty handlers in the past, Butler doesn't waste dribbles. Every step, every look off and every pounce has a purpose. Because of this, Butler's handle is not only flashy, but extremely functional.
Butler is absolutely nasty in the pick and roll — both as a scorer and facilitator. He uses his handle to dice up drop defenders, leveraging his in-between game to force backpedaling bigs to respect him in the high paint. If you continue to drop against Butler, he'll unleash his patented tear-drop right over you.
The third year guard has always been an efficient scorer out of the PnR, but through the first six games of his junior campaign, he's taken a massive leap in the playmaking aspect. Last year, my biggest reservations with Butler on the offensive end were his passing ability and decision making. Not only are those traits no longer negatives, Butler currently looks like a very legit passer. These are numbers from a small sample size, but he upped his assist per game numbers from 3.1 to 6.5 (!!!) while dropping his turnovers per game from 2.4 to 2.2 — making for a huge jump in his A:TO, which currently sits at an astounding 2.95. These are not empty stats, and Butler's improved court mapping and passing accuracy certainly contribute to the jump. In his recent game against Kansas State, Butler notched 13 assists and had the most impressive playmaking performance of the 2021 draft cycle so far.
Another reason why I'm so high on Butler is his ability to play off the ball, and that starts with his catch and shoot ability. Combining his first six games this year with last season's sample, Butler is shooting 43% on catch and shoot threes (50 for 116). Despite being more of a "lead guard" he has always been able to showcase his ability and versatility shooting off the catch. I'm a big fan of Butler's shot prep and mechanics, everything is compact and he stays on balance while getting into his two-foot hop. On top of being a very reliable standstill floor-spacer, Butler offers serious value as a movement shooter off the ball. Baylor has not been shy using him in actions, and Butler hasn't led them astray, regularly converting on quick hitters.
Another facet that Butler has improved is his defense. Some skeptics of his game and projection would regularly point to the other side of the ball, which I certainly don't think is plausible thus far. With 12 steals in six games, Butler is currently sporting a STL% of 4.1, which is very good, to say the least. But, even beyond the numbers, he has definitely impressed me. At the point of attack, Butler has been causing absolute havoc for opposing ball handlers. He's getting into their space with aggression, but rarely overplaying to the point where he gets burned. One thing that has popped out is his screen navigation. While it's far from uncommon to see smaller guards die on ball screens, Butler has impressed with his footwork and willingness to stay attached to the handler. It might seem like a minor detail, but it's a difference maker when it comes to defensive impact. Another noteworthy trait — and how Butler is getting most of his steals — is his work in the passing lanes. His anticipation has been awesome to see, and this one epitomizes that.
Last but not least, it can't all be peaches and cream. I've referenced Butler's athletic limitations throughout this piece and now it's time to sadly dig in. For starters, Butler is yet to register a dunk in his college career. Recently, he's gotten very close, but still hasn't thrown one down. If you look at the NBA success of small college guards with zero dunks, it isn't pretty. This isn't to say Butler won't be good, actually let me make this clear, I'm writing 2200 words on him to convince you otherwise! However, it'd be naive not to recognize that Butler will have his work cut out for him. In the intro, I talked about compensation. Butler usually relies on his handle, craft and skill to compensate in areas where his athleticism — or lack thereof — limits him. The crown jewel of those areas is around the rim.
Josh Christopher, Signature Smile And Swagger
In a generation where kids can genuinely follow and root for high school athletes through mixtapes and constant content, Christopher is somewhat of an icon. His vibrant personality (on and off the court) and high-flying game boosted him into stardom, before even playing a college game. Jaygup was one of the prospects I was most intrigued to see this year. I hadn't really seen him operate in a constructed system, and wanted to see how his skills and approach would adjust. In the early goings, I think it's safe to say he's exceeded my expectations, but there are certainly some things to iron out before we really get cooking. Jaygup came into college with the reputation that he was an "A+ athlete," and while that's certainly true in some instances, it's a little more complicated than that. Listed at 6'5" 215, Christopher has a very powerful frame for an off guard. I actually think there's room for him to get even stronger, considering most of his weight and power is derived from his lower body, and it definitely looks like there's opportunity to add more muscle in his arms, shoulders and chest. Now, Christopher does have very special vertical pop. When jumping off two feet, the force he exerts on the floor could be classified as violence, and that has been very effective for him at the rim thus far. With a head of steam — whether it be in transition or an off ball action — Christopher is nearly unstoppable getting to the basket, a freight train if you will. However, that same downhill explosiveness tends to betray him in standstill situations off the bounce, and that's where this gets complicated.
Jaygup's shooting profile and projection is extremely wonky, and complicated. For starters, he has a very off-centered shotline and release point. Christopher releases from his left eye and starts his windup (which is full two-motion) at his left hip, he's a righty. Whether it was HS or AAU, Christopher was usually playing on the ball, leading to a high volume of pull-up jumpers. Similar to most right-handed players, he is more comfortable pulling-up out of his left hand, which brings us to the context of these mechanics. Not only is Christopher comfortable taking tough jumpers off the bounce, he's been making them at an impressive rate.
One facet of his game that I think probably gets underrated is playmaking. Christopher has the potential to live at the rim, and while I think his infatuation with long twos will probably prevent that level of gravity, I think he'll still be more than proficient there. I've spoken about how Gup's shot selection could be adjusted, and by that I simply mean reigned in. He's a very good tough shot-maker and I'm not suggesting he eliminates those pull-ups from his diet by any means, but there's a difference between getting to your spots and settling. Due to his ability off the bounce, Christopher carries real gravity with defenders all over the court, opening up easier passing windows for him to capitalize on. The question isn't "can he pass?" but instead "will he pass?"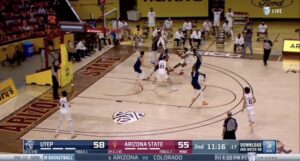 Jaygup has long been a volume scorer, and blending playmaking and scoring on any given possession is still an area where he could improve. Granted, he was on a little heater here, but taking this pull-up over two defenders is certainly ill-advised, especially when you consider a wide-open Kimani Lawrence in the opposite corner. Consistently making these reads on a possession-by-possession basis is something I'm looking for Christopher to develop throughout the year, and if he can, it's somewhat of a game changer. Gup's decision making is a problem, and there's no way around that. There are premeditated passes that lead to careless turnovers, and there are missed reads that should be elementary. HOWEVER, when he does decide to facilitate, I think he has some serious untapped ability that I'd love to see get expanded on.
I didn't want to get through this entire write up without mentioning Christopher in transition, because that's where I believe he's at his best. While this discrepancy between HC and open floor capabilities rings true for many athletic prospects with decision making question marks, it's even more transparent with Christopher. Think back to what I said in the first paragraph, about the difference in his production with and without a head of steam.
Finally, let's talk about the other side of the ball. Initially I was impressed and intrigued by Jaygup's defense, and while that hasn't fully faded, some old habits have officially reared their ugly head. On the positive side, I'm a big fan of his defense at the POA. Christopher isn't afraid to get physical, and given his strength and quickness compared to other off guards, he can definitely give them a hard time. I love his intensity on this end of the floor, never hesitating to dive on the floor for loose balls or put his body on the line. However, his team defense leaves much to be desired. Due to his pre-college context, Christopher is behind the curve in terms of off-ball responsibilities and the accountability that lies within.
Overall, there's a ton to tackle here. How valuable is his slashing if he can't draw closeouts? How valuable is his shotmaking if his shot-selection is non-ideal? How valuable is his passing ability if he can't be counted on to make decisions? I'd assume these are all questions that are asked in the war room of any NBA team considering Jaygup in June. To whichever team that ends up deciding it's worth it, be patient, I truly believe there's something here. They don't typically make them like Gup. The first to hype up his teammate after a three, the first dive on the floor, and I genuinely believe the first to do whatever it takes to win. Wiring can often be cliche, but I believe this is real. Josh Chrisopther truly gives a fuck, and that means something to me. There's no perfect fit, there's no perfect lineup optimization, but I think there's a way to make it work. The overconfidence that results in reckless long twos and the passion that makes Gup a great teammate to go to war with, are cut from the same cloth. Whichever NBA team that can limit the former while expanding on the latter, will walk away a big winner.
Jalen Suggs, Showing The Special
Admittedly, I was way too low on Suggs coming into the season. I missed the forest for the trees, focusing on nitpicking micro skills and being blinded from his entire appeal in the process. I'm proud to say I owned up to that scouting miss approximately eight minutes into his college career. I was hung up on the handle and "not being a primary" and because of that, I completely underestimated a potential special skill, his processing and anticipation. It's no secret that Suggs was a big time QB in high school, even earning some high major offers on the gridiron to go along with his wide selection of suitors on the hardwood. It wasn't his first position, but Suggs also played some safety on defense. While he might've left his cleats in Minnesota, his field (now court) mapping and wizardry understanding of the game made its way to Spokane. I'm not qualified enough to speak on the actual neurological overlap between these two sports, but as someone with a basic understanding of football, it's not difficult to see where Suggs channels his days in the shoulder pads. Whether it's seeing things two seconds before they actually happen, manipulating defenders with his eyes and ball-showing or breaking on passing lanes like peak-Revis, it's all there. I wanted to start with this because Suggs' game is truly derived from his genius-like understanding of everything going on. He's certainly an incredibly skilled basketball player — which we'll get into — but his processing and IQ genuinely have me glued to my computer. Watching him is beyond entertaining . From the outside, I see where he could go and what plays he could make, yet he always seems to amaze and sometimes even surprise me. Suggs always has the game in the palm of his hands, on both ends. His combination of tools and skills to go along with these mental advantages, is what ultimately makes him a clear cut top three guy. His athleticism profile is complicated, and while it might seem like I'm contradicting myself throughout this write-up, I'm not. Suggs' athleticism — and its effectiveness — will often change depending on the situation, and that's crucial for everyone to understand. I'm pretty high on his overall profile as an athlete, but certain habits and preferences hinder him at times. I'm going to walk you through those discrepancies, and maybe even make the pitch that it's low hanging fruit to take another leap. Only time will tell.
Right off the bat, Suggs' QB history is wildly apparent in his ability as a playmaker. Other than his pull-up shooting hot streak, this is the most impressive facet of his game on the offensive end. Suggs excels as both a reactive and proactive passer, which speaks to his current foundation of skill and makes for a valuable projection going forward. As a reactive passer, I love his decisiveness and ability to capitalize on windows without any hesitation. His otherworldly anticipation that I talked about above is an enabler for this, as he truly knows everything that's going to happen before it actually comes to fruition. Hear me out on this, the closest comparison to Suggs' reactive playmaking is a villain on the run. The police department is always chasing after them, the PD always thinks this lead is "the one," but when they show up at that random address in the middle of nowhere, it's completely deserted because the criminal had been tipped off. Jalen Suggs plays basketball like he's consistently getting tipped off by higher ups. No matter what coverage you throw at him, he's somehow one step ahead of you.
Suggs has certainly had some issues scoring the ball against a set defense, and we'll get into that later, but his shooting — and its versatility — has been absolutely nuclear so far. In his senior year at Minnehaha Academy, Suggs had some pretty crazy shooting flashes. Whether it was hitting a full-stop movement three from a BLOB, or draining consecutive pull-ups in a row, being a high-end shooter was always in his range of outcomes. Through his first seven games at Gonzaga, that connotation is starting to look more like a reality. Suggs has canned 12 out of his first 25 threes, and those attempts are far from elementary. In Gonzaga's NBA-esque offense, he's consistently operating on the move. Most of these attempts are either self-created with footwork or within the flow of actions (most notably DHOs). Given the average degree of difficulty, his 48% clip is absurd. I know, it's a small sample size, and Suggs is likely due for some regression to the mean. However, I'm buying every bit of Jalen Suggs being a very good to *potentially* elite shooter. His mechanics are extremely fluid, and the smooth energy transformation between his gather and release enables a wide array of versatility.
Suggs finishing is somewhat of a mixed bag, and that's partially because he makes it that way. In the half-court, he pretty much exclusively jumps off two feet. Now, that has its perks on some possessions, it allows him to shield defenders and maintain balance. However, it severely limits his explosiveness in tight spaces, and exponentially expands the time of his gather.
I've spent a couple thousand words (mostly) praising Suggs. But, remember, no prospect is perfect. Suggs' biggest flaw — in my opinion — is his ball control. In the half court, it's a legit problem and seriously hinders his creation ability. In the very beginning of this write-up, I briefly mentioned how his tools can sometimes look different depending upon the setting, and here we are. In the open floor, when Suggs is comfortable with his signature move and isn't getting pressured, his burst looks genuinely good — and far from a problem.
Last but certainly not least, I need to dive into his defense. It's worth noting that he isn't the best defender at POA, and can sometimes get beat by lesser guards off the bounce. However, it's far from detrimental and he more than makes up for it with his off-ball impact. I think Suggs' has all-defense potential. It's an interesting proposition because it's reliant on his ability to create events at a consistent rate, but his anticipation and tools on this end are absolutely mind-boggling. I talked about how Suggs has a tendency to see things well before they happen, and remains evident on the defensive end.
Is he your ideal primary ball handler? No. Is he a really damn good basketball player that can help you win a championship on both ends? Absolutely. Don't get caught up in overanalyzing the micro-skills — or lack thereof — because when push comes to shove, it might not even matter. Suggs' ability to comprehend everything that's going on at every given moment is a special skill. Special skills enable players to compensate. Suggs might not be good enough to crack the top two, but he's no slouch in his own right. As far as I'm concerned, three players have anointed themselves at the top of this class, and Jalen Suggs is absolutely one of them. He has a foundation of otherworldly instincts, advanced pull-up shooting and proven defensive impact as a 6'4" guard. If Cade and Mobley are off the board, I'm sprinting to the podium.
James Bouknight, Running Routes And Effortlessly Gliding
Before we wrap up this piece, we arrive at my top returner, James Bouknight. The prolific sophomore was one of my main influences for this idea, and I think my willingness to buy into this aspect of philosophy, likely benefits him more than anyone else in the class. While Bouknight doesn't necessarily project as a big scoring guard who can get whatever he wants whenever he wants, his offensive projection is more seamless than he probably gets credit for. His ability to garner a heavy load of on-ball reps this year will bode well for his development down the line, and it also shows what he isn't. But, let's talk about what he is. With legit size for an off guard, Bouk is a freak run and jump athlete with real ball skills, an efficient understanding of how to get to his spots and has taken a real leap in year two. If you compare his freshman and sophomore stats side by side, the percentages are nearly identical. He increased his FG% by 2 points, his 3PT% has dipped 1.4 points and his FT% has also dropped by 2. Considering Bouknight has tripled his 3PTA per game, doubled his free throw attempts per game and is taking nearly six more shots per game, his improvement is nearly remarkable. Bouknight has taken massive strides in volume, yet he's maintained his efficiency early on. Now, it's clearly early, but I think this speaks to his scalability and ability to maintain effectiveness in multiple roles. As I said initially, if you're looking for an isolation scorer, Bouknight just isn't your guy. That isn't a slight to his on-ball ability — while he does have some limitations there — but that's not who he is as a player. In my opinion, it's certainly for the better. Instead of investing your pick in a ball-stopping microwave scorer who needs the rock to make an impact, Bouknight is your prototypical off-guard for today's NBA. This entire piece is about weaving on and off the ball, and I'd argue no one does that better than Bouknight. He is consistently a threat, no matter where he is on the floor, no matter if he has the ball or not. Bouknight's ability to utilize his athletic tools to contribute within the flow of an offense — most notably off the ball — is not something that should be taken for granted. I think there's likely some low-hanging fruit in regards to his skill development, and that's pretty enticing when you consider where he's currently at.
I harped on it in the first paragraph, but watching Bouknight operate off the ball is incredibly entertaining. He is always moving, always looking for an angle to make an impact and put pressure on the defense. Bouk certainly isn't Steph Curry when it comes to off-ball skills, but I've been so impressed by his ability to change speeds and awareness of when. To the naked eye, it might seem like he's simply running crazy off the ball, but I've found that his movements are often calculated. He knows when to stop, when to accelerate and his footwork is very patented for a sophomore. While talking about Jalen Suggs, I dove pretty heavily into the cross-sport resemblance between his game on the hardwood and concepts in football. I'm not sure if Bouknight ever played football growing up, but his action off the ball is very reminiscent of a wide receiver to me. For wideouts, all of their work is done before the ball arrives, and making the catch is just the cherry on top. On some of Bouknight's possessions, that's exactly what it feels like. Whether it's setting up a backdoor cut or a DHO slip, his ability to use his feet and hips to sell the defender is very advanced.
On the ball, Bouknight has some juice as well. There are limitations, but it all depends on what you're asking him to do and what lens you evaluate him through. The main hindrance on the ball is his handle. While he'll never need to execute mind-blowing combos to be effective in his role, it occasionally creates a barrier for him to carry out simple scoring moves. I've been attributing this to the actual height, Bouknight himself and the ball remain relatively high while operating, creating a less-stable center of gravity. Because of this, the ball is sometimes loose under pressure. Also, because he isn't as low, it's more difficult for him to generate that same burst with the ball in his hands. These are important things to be aware of, but in no way shape or form will they break his NBA career, in my opinion. Improving those deficiencies would be a ceiling raiser, not a floor breaker. If you look at Bouk through the "off-ball guard with some creation capabilities" I think you'll actually walk away impressed, and that's where I'm at.
I've talked a lot about his game off the ball, and while cutting and movement is very valuable, spacing the floor is also a priority for me. In a short sample size, Bouknight is struggling on "no dribble spot-ups" so far. Considering he landed on the 90th percentile on those same attempts with a full sample as a freshman, I'm not too worried about it. He's in the midst of adjusting to a more demanding role, so he earns my leeway in the early going, but I expect that number to improve. When projecting to the NBA, I'm someone who certainly likes to see volume and versatility. With a surface evaluation of Bouknight, you can see he passes those goalposts with flying colors. He's currently attempting 6.6 threes per game, and the versatility is evident on film, as his shot catalog is filled with pull-ups, movement attempts and spot-ups. Bouknight is currently only making 33% of his threes, but given the elevator pitch I just gave, I'm not letting that number cloud my evaluation of him as a shooter, not yet at least. In a vacuum, I seriously value versatility. Now, when you consider a prospect like Bouknight, who has already mastered the tricks of off-ball movement, it becomes even more intriguing.
So far I've talked about skills where Bouknight is somewhere from good-very good. The final two aspects of his offensive game are worrying and elite, so let's just get the bad stuff out of the way. Bouknight's playmaking is a very interesting evaluation. He currently has a negative A:TO, but I wouldn't necessarily attribute that to poor decision making. Unlike Christopher, who has a wide variety of passes and decisions he can make on a given possession, and it sort of feels like you're playing a slot machine to find out which comes to fruition. Bouknight is simple, hitting the open man when he's visible, and limiting possessions where you scratch your head and think "what the hell was that?" After a game or two, I thought this was a positive, but I'm certainly not in that camp now. Bouknight's resistance (or inability) to make layered reads has now ascended to my main concern. When coming off a PnR, it seems like he's only looking at the roll man, and if he's not there, he'll simply abandon the action and reverse the ball. In my piece about processing speed, I wrote about how progression speed within an action is very important with handlers. What I mean by that is, how quickly are you going from the roll man, to the shake shooter, to the weak side corner? How fast are you moving onto your next read? With Bouknight, it seems like he's simply reluctant to move on from his initial one. On its surface, and if you're content with Bouknight being a capable role player, then this basically is what it is. However, I believe the key to his ultimate ceiling is becoming a deceptive playmaker, and his lack of risk-taking so far has me wary of realistically projecting a jump.
Onto the elite, let's talk about his finishing. I hinted at the absurd hang time earlier on, but now it's time to dig in. In NCAA Football 13 (which was my quarantine addiction and second favorite game ever) they had a feature called "reaction time." By holding the left trigger, this feature enabled you to literally slow the game down, and act in slow-motion. When James Bouknight, it feels like he has infinite reaction time, floating in the air at will and defying gravity.
Finally, his defense. This aspect is certainly one of the more mind-boggling traits I've evaluated thus far. As you know by now, Bouknight has the tools to be an impactful team defender. Recovery speed isn't an issue, and if he ever has to meet anyone at the rim, well, you know how that would go. Given all that, you would think that Bouknight would have a very gamble-heavy approach to the defensive end. In reality, it couldn't be further from the truth. His positioning on defense genuinely makes no sense to me. He is (almost) always denying his man off the ball, except he isn't always guarding Michael Jordan, he does it with every single matchup.
There was a lot of variation there. Some great, some good, some ugly. While there were sporadic results all over the board, Bouknight brings a lot of "good." The low-hanging fruit for his development is this: You have an elite athlete who is — at least — capable in almost every facet of the game, his baseline is incredibly high, and one leap in one micro-skill could make him a game changer. If the draft were today, I'd take Bouknight in the top 10. His scalability and skillset enable him to play multiple roles, combine that with the production and tools, and it's too much for me to pass up. However, it'd be naive of me to not recognize the *potential* fatal flaw. If Bouknight fails, there's a good chance it's because he wasn't able to process the game at the level necessary to succeed. I'm very big on processing speed, and I'm choosing to overlook his limitations in that field on the ball, in exchange for his off the ball wizardry and pure on-ball skills. I might be right, I might be wrong. Only time will tell, and it's safe to say Bouknight will be a huge evaluation for my philosophy in the future. But for now, I think he is a very solid prospect. One who has a seamless fit to produce on an NBA team immediately, and has a ceiling to do much more.