With more than two months left until the 2020 Draft, I somewhat hit my breaking point. Over the past few weeks I decided to dig into the 2021 class — which has far more top-end talent than the current group. Throughout the process, I found prospects that might not be in the lottery on early mainstream boards but are players I took an extreme liking to. I present, my guys.
Caleb Love, North Carolina
If you've been following my twitter for the past two months, this inclusion shouldn't be any kind of surprise. Space creation, a tricky handle and elite shooting potential are the calling cards for the future UNC Tar Heel. Of course, those are extremely valuable skills when they're tied together, but it also requires a very high end shooting outcome to make it really worthwhile. Shooting projection is never easy, but Love has a profile that makes him a very intriguing bet to become the next transcendent guard shooter.
Making the shot is ultimately what you get rewarded for, but creating the shot is the necessary predecessor. When we think of "elite shooters" names like Joe Harris, Duncan Robinson and JJ Redick often come up — pinpoint accurate gunners who provide for their family by running off pindowns and making incredibly difficult shots with flawless footwork. Those players are obviously incredible shooters and there's no argument against that, but where is the love for James Harden? I know, he is a "scorer." However, Harden is one of the most talented individual space-creators and shot-makers in NBA history and he probably deserves more praise as a "shooter."
This is where Caleb Love comes in. At just 18 years old, Love is already comfortable creating his own shot with a lethal plethora of dribble moves and combos. He keeps the ball on a tight string, but more importantly, he knows how to sell his handle.
In a world where many HS players over dribble and their combos often have no purpose, Love is the exception. Some prospects get a ton of praise for their "change of pace," these are usually guys who are limited athletically and have to win with pace and smarts, but Love adds a different connotation to that compliment. Yes, his traditional change of pace is still impressive and his burst is often overwhelming coming out of his signature hesi. But, in this instance, I'm talking about his change of pace within his dribble combos. Players often get sped up and can't maintain the pace and poise they rep during workouts. Love is consistently incredible at putting his defender to sleep with a slow-paced first move and then violently waking him up with the finishing move.
Another aspect that makes me high on Caleb Love is his ability to go off-ball in the half court and still generate real gravity as a movement shooter. I talked about how impressive his volume and comfort shooting off the bounce was, but it's also noteworthy coming off off-ball actions.
Love isn't exactly the most advanced passer yet, but I'm not sure he has to be. He's flashed the occasional throwback to the shake shooter out of PnR and has definitely thrown some eye-opening drop offs, but Love isn't the lead guard who manipulates tag defenders with no looks and live dribble darts. Instead, he thrives off advantages created from his handle, burst and shooting gravity — often making the simple but usually effective pass. While that approach certainly puts more pressure on the level of shooting outcome he has to hit, if he does reach the level I'd expect, it makes him a capable reactive passer instead of a black hole.
Up to this point you probably think Caleb Love is the next Damian Lillard. While it is in his range of outcomes (like 99th percentile) every prospect has their flaws, and it's time to talk about his. When he decides to get downhill, Love is hard to keep out of the paint because of all the positives I mentioned above, however, he still has ways to go as a finisher.
Keon Johnson, Tennessee
When scouting prospects before college, I've mentioned how important it is to watch players in different settings. Roles and expectations change with wind and it's critical see it all and then widdle it down to what matters. Keon Johnson has limited tape available, he only played four games as a senior and he suits up on the Adidas Gauntlet — where film is a needle in a haystack. I was finally able to get my hands on some games, and let's just say, he didn't disappoint. In AAU, you saw a top tier athlete with incredible explosion, instincts and aggressiveness, which are all noteworthy for a 6'5" guard. However, when you turn on the high school film, that's when we start cooking. You saw those athletic traits result in easy buckets and ferocious put-back dunks at the rim and while also showcasing more genuine basketball skills. Instead of being pigeonholed into the block in a 4-out offense — yes, that actually happened — Keon was able to rock out with Webb School.
I want to start with his most translatable skill — slashing. I touched on Keon's burst but it's hard to articulate how overwhelming of an athlete he actually is without seeing it with your own eyes.
One of Keon's more improved traits is his playmaking. If you even listen to 25% of the things I say — I don't blame you if that number is on the high end — then you know how much I value advantage creation. I'm all for intelligent connecting pieces that always make the right play at the right time, but in order for them to be effective, someone has to shift the defense. Keon absolutely carves up defenses in the purest way possible — straight line drives. Because of his ability to get downhill so quickly, Keon draws multiple defenders with ease. When the defense is scrambling, the reads get easier. He isn't a manipulative passer, but it's very functional because of his awareness and quick decision-making. Keon excels as a drive and kick passer, which is extremely valuable when intertwined with his slashing prowess.
The starkest change in his game from AAU to High School was the fluidity of his jumper — in the best way possible.
So far, I've written 834 words on Keon and haven't touched on his defense, let's change that. On this side of the ball, Keon Johnson is a bad m**********r. He uses otherworldly quickness and strength to dismantle opponents at the point of attack (it should be illegal for any team to have Jaden Springer and Keon in the same recruiting class). However, I was blown away by his off-ball defense — rim-protection in particular. At just 6'5", Keon is far from your typical secondary rim protector, but here we are. His combination of vertical athleticism, instincts and consistent engagement made him an absolute eraser for a HS guard. While his production in that aspect will almost certainly take a dip against better basketball players and more gifted athletes, I still think it can be a part of his identity in the league.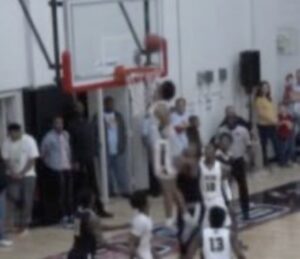 This play ended in a goaltend, but check out where Keon's head is when he makes the block, watch your head young fella!
There's one facet of the game that brings Keon Johnson back down to earth — ball-handling. He was able to win with speed and strength against lesser competition, but his loose handle and lack of shake could hinder his on-ball equity moving forward. Ball handling is generally viewed as one of the hardest skills to improve on, making this "one flaw" pretty significant. Keon has been on a very impressive developmental track so it's not out of the realm of possibilities that he tightens this up, but as I said, there's a very short list (if any list at all) of guys that have massively improved their handle.
Moses Moody, Arkansas
The phrase "3&D wing" gets tossed around every level of basketball far too freely. What most pitch as a floor outcome is actually one of the rarest and most valuable archetypes in the league. Another basketball genius, Todd Whitehead (@CrumpledJumper), recently wrote about which player types are oversaturated or underappreciated in the NBA market. According to Todd, in order to earn the 3&D title, a player had to shoot at least 35% in Ben Taylor's shooting proficiency metric (formula is (2/(1+EXP(-3PA)) -1)*3P%) and grade out as either an A or B in perimeter defense, per Bball Index's talent grades. For those who aren't familiar with Todd, Ben or Tim's work, I can hear you saying "Where the f**k did those come from?" But, these are reliable benchmarks, not handpicked goalposts. Only 21 wings met that criteria. Seems a little low for how often we hear 3&D, right? The main idea of that spiel is to not underrate players who have real 3&D potential — let alone prospects who already excel in both fields as an 18 year-old. With all that in mind, meet Moses Moody.
I want to start with Moody's shooting. At 6'5" with approximately a +8 wingspan, Moody has no problem getting clean looks over defenders. Let's just preface this paragraph by stating that he shot 43.1% (43.1!!!) from deep on 72 attempts this past year. Moody's mechanics — similar to Devin Vassell — also allow his length to be that much more enabling as a shooter.
I've already talked about how important it is to watch prospects in different settings while evaluating Keon Johnson, now let's shift that same lens over to Moody. He spent two years playing a crucial linking piece for Montverde. The Eagles have been one of the nation's top teams throughout his entire tenure, his role was valuable and by no means a slight to his game. On the EYBL circuit with Brad Beal Elite, it was a different story. Moody saw a significant jump in on-ball reps as both a shooter and creator. It showed his lack of burst and loose handle at times, but for the most part, it was an extremely refreshing and encouraging look into what his offensive ceiling actually looks like. Because of the flaws I just mentioned, I don't think Moody is the next big wing creator (he'll still be really damn good) but due to his shooting ability, he's going to draw closeouts.
I don't have access to Moody's finishing numbers but anecdotally, it seems like an area where he can and likely will improve.
Now, we finally get to talk about what makes Moses Moody special. He is a defensive monster, plain and simple. While he isn't your typical 99th percentile athlete wing stopper, Moody overwhelms with never-ending arms, out-of-this-world instincts and Ed Reed range. He might not be the Pat Bev pest-type, but I can assure you, opponents hate playing against Moses Moody. When I was younger — and in my Michigan fandom — I had a shirt that said "water covers 70% of the earth and Charles Woodson covers the rest." If anyone reading this has a T-shirt store in Fayetteville, well, you're welcome, because it legitimately seems like Moody covers the entire earth in help defense. This can't be attributed to just positioning, instincts or length, but rather a combination of all three. His smarts, reactivity and tools all enhance each other on the defensive end.
That level of team defense can be so valuable to a team, Moody not only has the ability to create events himself but he can also consistently clean up others' mistakes. The second clip is just a lol moment. Literally, I laughed out loud watching this play live. Moody plays both players perfectly and baits Nimari Burnett into throwing an ill-advised entry pass. He then looks like Wilt Chamberlain while apple-picking with the way he effortlessly uses length to intercept the pass — it must be nice to play basketball with a wingspan above -3 (I wonder what 5'9" blogboy has those alligator arms).
Last but certainly not least, Moody is a coach's dream. He consistently does all the little things that don't show up on the box score but play a vital role in the end result.
DJ Steward, Duke
DJ Steward is a sharpshooting combo guard with seasoned pace, endless range and incredible positional length, why does he remain underrated amongst national recruiting services? I wish I knew the answer. The Chicago native has been on my radar since he was a freshman at Fenwick High School — but my introduction to Steward was rather unique. I was at NikeTown during McDonald's All-American week and I started telling one employee about my blog (I was 15 at the time and it's pretty crazy that he took me seriously), he told me there was a young killer by the name of DJ Steward that I had to keep tabs on, so I did. I don't think either of us knew I'd be writing about him as one of "my guys" through the 2021 draft lens, but that's the beauty of the game.
It takes one look at Steward for his frame to absolutely jump off the page. Unfortunately, he's still rail thin, but he has good height for a guard at 6'4" and even though I couldn't find an exact measurement, I'm very confident saying he has an impressive wingspan. The reason I'm so high Steward's pure tools is that they fully coincide with his skillset and already further his abilities on the court. This isn't a tools projection, this is a tools evaluation. Even though Steward might not blow by you with De'Aaron Fox full court speed, his pace and ability to change speeds can be lethal. Even though Steward might not posterize the seven footer that slides over in help, he'll have no problem laying him with a crafty reverse finish. You see where I'm going with this? Every prospect has flaws, no one is perfect. But, flaws only become crippling when you're unable to compensate for them, and so far, Steward has met every challenge head on and passed with flying colors.
Some might say Steward's game is predicated around his jumper, but I'd argue it's actually centered around his touch. He is a legitimate three level scorer — with an extremely developed mid range game — and a lot of that can be attributed to his buttery touch from everywhere on the court. Around a year ago this time I was raving about Tyrese Maxey's otherworldly touch, and that certainly did not betray him at Kentucky. Steward might not have the footwork versatility that Maxey had, but the pure touch flashes are pretty similar.
At the moment, Steward's best skill is his pull-up shooting. His transition from dribble to shot is extremely smooth — and mechanically advantageous. Unlike the aforementioned Caleb Love, Steward doesn't rely on wicked space creation combos to get his shots off. Instead, Steward plays at his controlled pace, constantly looking for the tiny window he needs.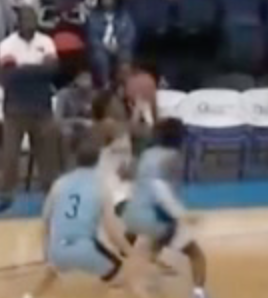 While rewatching some of his clips, I noticed something in his pull-up mechanics that will serve as a huge benefit to him going forward. Steward has a one motion release, but take a close look at his set point on pull-ups. He is still gathering momentum on the downswing, but the ball is already at his forehead, creating a very clean look at 6'4".
I've talked about how Steward doesn't carve up defenses the flashy way, he won't put you on skates with a Tim Hardaway combo or Harden stepback, but he is extremely effective playing his way. He wins with change of speeds, some standstill burst and shooting, which brings us to his most ideal play type — the pick and roll handler. If Duke wants to be at their best, they will let Steward have a steady diet of PnR reps.
He has been making real progress as a passer, and I noticed that most of Steward's noteworthy passes came out of the PnR. Take the plays above for example, Steward shows the same patience to draw out the hedge and get the tag defender to commit, before firing live dribble passes — with both hands — to the opposite corners. Not only is the PnR an easy way for Steward to be an effective passer early on in his career, I also think it's a great way for him to get substantive reps as a playmaker.
What makes Steward such an offensive weapon is his game off the ball. His projection as a valuable off-ball movement shooter is far less ambitious than it is for Love, given Steward's reps, footwork and size. With Whitney Young, he was able to showcase his polished movement shooting through creative sets and unique screens.