LaMelo Ball isn't like most 18 year-olds. In his budding — yet eventful — career, he has played in three continents, promoted his own signature shoe and starred in his family's reality TV show. That's different. The phrase — "that's different" or "you're different" — has a unique spin in pop culture, Urban Dictionary defines it as "The state of not being the same." While that sounds self-explanatory and very similar to the Merriam-Webster definition, it's used in a separate light. The official definition typically refers to someone who is an outcast, for any reason. In pop culture, being "different" is the ultimate compliment. Whether it's your ability to get buckets, be suave when talking to girls or pull off unique Jordans that only you can rock, earning the label with that connotation means you're above the rest, not just distinct from them. LaMelo is different — no matter which definition you look at.
Development
In order to accurately depict LaMelo Ball and the player he is today, we have to go back to where it all started. LaMelo's track to stardom is truly one of a kind. Growing up in the Ball household, thinking outside the box wasn't just encouraged, it was required. Early-shot clock pull-up threes were regular, full-court baseball passes were common and nothing was considered "too deep." Mike Schmitz has mentioned how this upbringing played a key part in molding LaMelo into the cerebral lead guard he is today, but as someone who religiously watched Chino Hills basketball — I can't overstate its importance.
To this day, the 2016 Chino Hills Huskies are the most entertaining basketball team I've ever laid eyes on. They played a frantic — but well thought out — pace and consistently made really good teams look uncomfortable. While LaMelo was just a freshman and usually played third fiddle, most of the special traits in his game today can be attributed to his time as an understudy. Before LaMelo even stepped foot on a high school campus, he was already playing against 17 year olds. Playing up is common for elite players, but going four years above your age group is simply unheard of. Since LaMelo lacked the burst and strength to keep up with the older guys, he had to compensate. Combine those circumstances with the freedom he was given by his head coach, Lavar Ball, and you develop things that are truly unteachable. Despite not being "the guy" on these earlier teams, he was never pigeonholed into a role. Whenever he got a touch, the keys to the Ferrari came with it. LaMelo's entire life has been getting "thrown into the fire." He was constantly — and still is — exploring to see what works and what doesn't. LaMelo was a freshman who started on the number one team in the country, yet he had no leash. Not just a long leash, he literally had no leash. The behind-the-back and no-look passes you see on Bleacher Report today aren't new, he's been experimenting and perfecting these wild — but functional — nuances since he first picked up a basketball.
There are some negatives to this unorthodox upbringing and developmental path. LaMelo's three biggest issues today — defensive positioning, shot mechanics and shot selection — are all products of the one-of-a-kind system. LaMelo played at the top of Chino Hills' press and half court zone, his job was to try to get a steal and then leak out. While this resulted in plenty of highlight passes for Lonzo, it stunted his defensive development in the half court. Someone who sees the game like LaMelo does is bound to have a longer leash than others so this isn't even about effort and engagement (which are still issues, just for a separate conversation). Because of his role and Chino Hills' pace, he was never asked to truly play half-court defense. I don't want to get into it too much here, but rotations are still rather forgein to him. If you think LaMelo is scrawny now, you should take a look at the 14 year-old version. Despite being built like the tube man sitting outside your local car dealership, LaMelo regularly jacked 30 footers. Since he simply just wasn't strong enough, he developed a huge elbow-flair and sweeping leg kick to get the ball to the rim. Growing up, Melo was taught that JR Smith was a conservative shooter (not actually, but probably). No shot is a bad shoot and always keep that trigger loaded.
LaMelo has shown glimpses of ironing out all these issues and looking ahead, I think he'll fully come around. Although it seems like I'm bashing Chino Hills and the Big Ballers, I'm not at all. LaMelo's early years have allowed him to grow into a basketball genius that is utterly unteachable. You could watch all the film in the world and still won't even sniff his understanding of the game. LaMelo's toolbox, savant-like thought process and never-rattled approach were made in Chino Hills, and they still hold true. Yes, I had to play devil's advocate and lay the groundwork for his flaws just so I can sell you on his improvement later on. Let's get into it.
Handle
As far as LaMelo's on court evaluation goes, it absolutely starts with his handle. Standing at 6'7", LaMelo already has a huge height advantage on most lead guards. We are used to seeing tall-skinny guards like Shai Gilgeous-Alexander and Shaun Livingston win with pace and length, but LaMelo does things a little differently — do you see a theme here? LaMelo has a wicked handle, there's no other way to put it. He has every move in the bag, it's always tight and he has no problem improvising. The last point is where he really makes his money, Melo is really impressive when reacting to what the defenses give him and making them pay for it.
LaMelo is extremely shifty, his ability to change his body-height on moves and really sling the ball out — like bait on a fishing hook — consistently shakes defenders.
Another aspect I love about LaMelo's handle is that it allows him to probe with a purpose. The great passers always have their head up, and that stands true for Melo. Whether it's coming off a ball screen or just attacking a gap, LaMelo is extremely dangerous when probing. Because of his handle, he can dance with a dribble combo to keep the big engaged while he waits for something to open up.
One of his go-to moves is "high-hands." LaMelo loves utilizing this move coming off ball-screen or just working on a switch. His percentages from deep don't scream "knockdown shooter" on the scouting report, but defenses respond to volume — unless you're outlier bad, *cough* Westbrook — and LaMelo is more than comfortable shooting pull-up threes.
LaMelo is a very impressive pick and roll initiator for his age. Obviously his vision and otherworldly playmaking skills play a huge part in that, but his ability to set up and reject screens only enhances the results.
Playmaking
LaMelo's handle unlocks everything, but his playmaking is the real calling card. I think there's a genuine case for him to be a top five passer in the league from day one. Picking which clips to use for this section was a grueling exercise. I have a folder for all my Melo clips and I think 11 of them have "insane" in the title. It's flashy, it's precise and it's functional.
I want to start by highlighting his ability to manipulate the defense with his eyes and body. Earlier I talked about how reactive LaMelo is as a handler and that holds true as a passer, however, he's also very proactive. He can single handedly carve up a defense and best believe, he'll make you pay for it.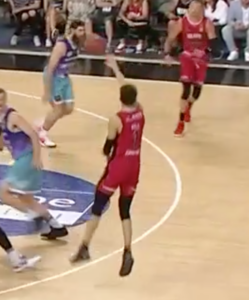 In this pseudo-pick and roll, LaMelo has his entire body and eyes pointed towards the wing. The entire defense is staring him down and he is able to shift them without even taking a dribble. LaMelo approaches playmaking like an All-Pro quarterback. He always locates the safety lurking in help and he knows how to freeze and keep them honest with ball-fakes and stare-downs.
At 6'7" LaMelo has the luxury of seeing over the defenses and he maximizes that to his advantage.
All the prolific playmakers in today's game are elite live dribble passers. They're able to read the defense and fire in a one-handed pass to a teammate without wasting any time or movements. I'm sure you guessed it, Melo is also incredible there.
Some like to point out that LaMelo has poor decision-making, but I'm really not buying it. He posted a 2.73 A:TO as an 18 year-old in a professional league. That's pretty incredible, especially when you consider how ambitious he is as a passer. Even if you're still concerned with the raw turnover numbers — which you shouldn't be, but to each their own — Trae Young and Ja Morant both led the nation in turnovers during their respective pre-draft college seasons, and they've turned out just fine…
Shooting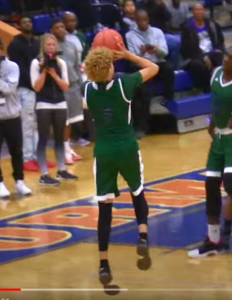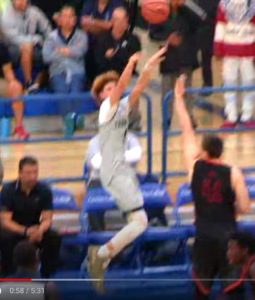 Now, things get dicey. LaMelo was inefficient from deep this past year and has always had wonky mechanics — remember what I referenced in the developmental section. His sweeping leg kick and elbow flare were constant in his jumper until this past year, there were still flashes but Melo made big time improvements as the season went on. Everyone likes to bring up his splits — 37.5/25/72.3 — and there's no sugarcoating this, they aren't pretty. Combine that with the unorthodox mechanics and I completely understand why some are skeptical, but personally, I buy LaMelo as a shooter.
I mentioned this earlier but I want to re-emphasize that defenses react to shot volume more than true percentages. Sure, there are outliers, there always are. But most of the time, someone who shoots 35% on nine three point attempts per game will put more pressure on the defense than someone who shoots 42% on three attempts per game. Think about Luka Doncic, despite only shooting 32% from deep, he generates a ton of three point gravity because of his high volume (nine per game) and high frequency of above the break pull-ups. LaMelo Ball is — and has always been — a confident three point shooter, especially on pull-ups.
I touched on the mechanical improvement but I want to go a little deeper. In Melo's first six games in the NBL, he shot 5/32 for a whopping 15%. However, in his final six he shot 15/47, going 32% from deep — on 7.83 attempts per game. Most of that can likely be attributed to him getting back to the mean, but it is worth noting that LaMelo took noticeable strides in his lower body jump shot mechanics throughout the season. His feet stayed under him (for the most part) and typically moved marginally in front of him if they moved at all, which is great news compared to his ballerina pirouette at Chino Hills and Spire. These concrete changes and strides are impressive to see and speak to Melo's work ethic.
I'm a little more hesitant to attribute pure touch to shooting development, but when it's as outlier good as LeMelo's is, I'd be naive not to put some stock in it. He probably has the biggest floater sample in the class — sometimes to his detriment — as it's been a staple in his game for a long time. LaMelo has mastered the art of deception on when to get these off, often psyching out drop bigs before flicking up a beautiful teardrop. When talking about his touch in relationship to his shooting outlook, you have to consider his floater range.
Given his mechanical improvement, touch and willingness to shoot, the notion that LaMelo is a "non-shooter" is a pure fallacy. Are there things he needs to work out? Yes, there's no denying that. But, because of all the words you may or may not have skimmed through, I'm optimistic on him becoming a viable shooter.
Defense
LaMelo Ball was not a good defender this past season, that's a fact. He often looked like a second semester senior in psychics class — hope you're not reading this Mr. Lee — on that end of the floor. He was rarely engaged and this is far from a new knock on his game, but contrary to most, I think LaMelo has more hope on defense than he gets credit for.
Going back to the development section, LaMelo literally never played in a half-court defensive scheme before the NBL. He is used to gambling for steals and running wild — it sure helps when you have 16 year-old Onyeka Okongwu with the "intimidator" badge on hall of fame. Concepts like rotations, positioning and help-the-helper often seemed foreign to LaMelo. His defensive projection is practically a litmus test of your defensive philosophy. If you think effort is hard-wired into a prospect and that's what matters most, then I understand how you could think Melo will be a disaster at the next level. I believe that effort can be *slightly* improved with a good coaching staff and LaMelo has what you can't teach — feel for the game and the ability to anticipate things before they happen.
First, the ugly.
Despite all those clips, I still think there's a plausible path for Melo to be an average or slightly below-average guard defender. At 6'7" LaMelo has great positional length, in the NBL he had a bad tendency (it also could've been instructed by Illawarra) of going under ball screens. In the NBA, I think he'll be an interesting pick and roll defender because of his ability to tail the ball handler and affect them from behind the play. Most guards who are bad defensively get swallowed up in ball screens and it creates an easy advantage for the offense, if Melo gives a f**k then he won't have that problem. LaMelo is also a very smart and instinctual basketball player.
His point of attack defense is generally nonchalant and I'm not saying the first couple of years won't be rough. Improving LaMelo's defense is going to take a lot of film study, practice, live-reps, patience and re-wiring. I'm not saying it's going to be easy, but I think there's some light at the end of this tunnel.
Finishing
Contrary to what some have put out there, LaMelo Ball is not a bad finisher. Like most scrawny young guards going into the forest of big men, he suffers from contact aversion and often makes things more complicated than they have to be. However, he has incredible touch in the paint and shot 55% at the rim in the half-court. Due to his handle and change of pace, I have no doubts about LaMelo's ability to actually get to the rim, his problem is simply settling for less efficient shots because he's comfortable with them.
LaMelo's floater is a huge double-edged sword. While it allows him to use quick snappy touch release and throw bigs off guard, he settles for them a little too often.
I've talked about LaMelo's touch a lot throughout this piece and it doesn't betray him at the rim.
Even though Melo isn't quite finishing through shot-blockers yet, he is comfortable and effective using his length to finish around them.
No one has ever claimed — I don't think, at least — that finishing is a hallmark of LaMelo's game and it might take a couple of years to reach his high-end outcome there. But, I think with more muscle, he can be pretty productive at the rim.
Transition
Last but certainly not least, LaMelo's transition game. Getting LaMelo in the open floor with a numbers advantage is not only popcorn-worthy but also very effective. His vision and passing creativity gets showcased to the fullest and it's nothing short of mesmerizing to watch.
I want to highlight two types of passes that Melo loves to use on the break, first, the Ball-signature full court baseball pass.
This live dribble drop off is also a favorite of mine.
*Dickie V voice
It might not happen right away, but LaMelo Ball has the chance to be special. With tall playmakers taking over our game, it's not hard to see where he fits in. He has been on quite the journey, but he is far from a journeyman. LaMelo Ball is different.