While most people are binging Netflix and HBOGo during quarantine, I find myself watching the Spanish second division. It might sound ridiculous, or even torturous to some, but it's been a great way to stay productive during these times. I still enjoy late-nights on Xbox with my boys, but I wouldn't be who I am without basketball, and with no live games going on I've found that it's more important now than ever to stay in contact with the game. For me, that's watching film on any Draft prospect I can find, re-watching old NBA playoff games or staying on Quinn Cook's Instagram live until the wee-hours to watch players defend their name and rep. This world-wide pandemic has taken something from everyone, but it has also been a reminder that basketball is the best form of therapy.
Unicorn Hunting With Aleksej Pokusevski
Most seven footers in this world are clunky and uncoordinated. Most seven footers aren't like Aleksej Pokusevski. The Serbian born phenom possesses a generational combination of movement and skill, which has resulted in him popping off film in the Greek second division, sound familiar? I'm not fully comparing Poku to the reigning NBA MVP because that would just be irresponsible, but in a draft that lacks high end upside, Poku might just be weird enough to hit and cement a certain GM's legacy for years to come.
After tweeting *lots* Pokusevski clips, I've started to run out of adjectives to describe the unusual — yet incredibly entertaining — experience. On one possession, Poku might look like the next basketball unicorn, as he turns his defender with a wrap-around dribble before pulling up and draining a three. But, on the ensuing trip down the floor, he might look like someone who shouldn't even be considered a prospect, as he blows a slightly contested layup due to his extremely slender frame. With Poku, there's undoubtedly questions, but is his rare arsenal of skills enough to overcome certain physical limitations and become a legit NBA player? Every executive is hoping they can be the one to provide that multi-million dollar answer.
I want to start with his movement skills, because everything stems from there. Poku is listed at 7'0" and a whopping 205 pounds, but he doesn't play anything like your typical seven footer. He is comfortable getting a rebound and pushing it himself and he can run off pindowns as a movement shooter. While most guys his size feel more comfortable in the paint, Poku is the exact opposite.
Not only does Poku consistently hold his own against guards, he can also be a defensive playmaker outside the arc. While he doesn't have overwhelming length for his size, he has incredible instincts and reaction time that allow him to be very disruptive in passing lanes. He can pick off passes that are otherwise ordinary on the perimeter, and he can also break up your drop off to the roll man that gets through against every other opponent. Poku also impresses as a rim protector, he isn't very good at holding his ground but his vertical pop and anticipation have yielded impressive results so far. Despite all these freakish skills and flashes, I do think there is a chance Poku struggles in the NBA defensively. His rogue style of play will likely be reeled in, and if he doesn't get stronger, his rim protection impact will probably suffer. He might just be special enough to impact the game with event-creation, but it could be tough sledding, especially early on.
Another big question mark that evaluators have posed for Poku is: what can he do on offense in the half court? I definitely understand the skepticism and have acknowledged that for now, Poku is likely a theoretical player, but I'm probably less concerned with his offense than consensus. Yes, the lack of strength is a big problem around the basket, but how many seven footers can truly shoot, dribble and pass. Poku's shot mechanics are somewhat inconsistent, but the flashes are nothing short of incredible and he has also shown impressive touch on floaters, I'm buying the shot to an extent long term. At the very least, I think his offensive package is intriguing and useful in today's game, but if he can hit his ceiling, then we're talking about another animal.
Leandro Bolmaro, Defining Ambidexterity
In a class that's loaded with international prospects, Bolmaro is someone that consistently gets lost in the shuffle. The 6'7" Argentinian born wing currently resides in Barcelona, where he is getting most of his reps in the Spanish second division, with an occasional EuroLeague appearance. Bolmaro's everyday competition in that league isn't exactly rigourous, but his skills constantly pop off the page. After getting a better look at him through FIBA film this past summer, I can confidently call myself a Leandro Bolmaro fan.
On the offensive end, Bolmaro is one skill away from having the complete package, but that skill can make or break you in today's NBA. Bolmaro has a ton of shift and shake while operating on the ball, but he's likely a secondary initiator at the highest level, which makes his shooting projection that much more crucial. If you follow me on twitter, you've seen me express my doubts with folks in the draft community taking shooting indicators a little too far. I don't think jumpshot improvement is as simple as shooting well from the free throw line and having good touch. However, Bolmaro has made significant strides in his shooting mechanics in the past nine months, practically eliminating his hitch and now sports a much smoother release.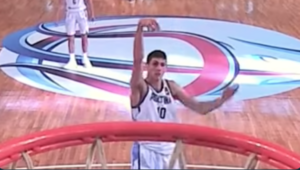 His wrist is still a problem, as it tends to bend inwards after the ball is released, which can't have a positive impact on the shot. But, it's worth noting that the wrist flare is much less significant in his recent film.
Now, let's get to what makes Bolmaro super intriguing. As I mentioned earlier, other than the shot, he currently has the full package. Despite standing at 6'7", Bolmaro is extremely shifty and deceptive with his dribble moves and change of direction. He sells his crossover as well as anyone in the class and is super effective at changing the height of his dribble to keep defenders guessing. When kniving into the lane, Bolmaro has impressive deceleration and solid touch on floaters. For the most part, he's balanced and knows how to use his height to score over defenders in the paint.
His elite combination of size, speed and handling results in a ton of paint touches, which makes Bolmaro's passing IQ and ambidexterity even more valuable and translatable. This is probably my favorite part of his game, he is absolutely wicked when dicing up defenses. Similar to LaMelo, you just have no idea what he's going to do with it, but Bolmaro always finds the window.
Despite having some minor flaws, Bolmaro is pretty incredible on the defensive end as well. His screen navigation immediately stood out to me, opponents were regularly getting called for illegal screens because they were trying to free their teammates from Bolmaro jail. It often looked like he was literally locked onto his matchup, doing his best Darrelle Revis impression to not allow any separation. At the point of attack, Bolmaro is an absolute hound. At the expense of what my twitter companions might think of me, I value POA defense more than most. I'm not touting Bolmaro as the next wing-stopper, but he is certainly disruptive on the ball, and that deserves credit. He is super light on his feet and has quick hips. However, even though he has all the intangibles, this is one part of his game that might not translate with better competition. Off the ball, Bolmaro is impressive as well. The same reads that result in him whipping plus one passes to open teammates translate to the defensive end. Bolmaro hardly misses rotations and is often one step ahead of the offense, I wouldn't call him a secondary rim-protector, but he certainly has solid flashes of sliding and walling up vertically, which often alters the opponents attempt. It is worth noting that Bolmaro can get a little overzealous on this end, resulting in backdoors and quicker guards leaving him in quicksand when he reaches for a steal, but these are likely small things that will become less-frequent with maturity and coaching.
Even if the shot doesn't come around, Bolmaro still has enough skills to make an impact in the league. But, if it does come around, we're likely talking about one of the best players in the 2020 draft class.
Desmond Bane, Don't Judge A Book By Its Cover
Desmond Bane has been flying under the radar for way too long, maybe because he's a four-year player? Maybe because he plays at TCU? Maybe because he's built like a football player? Maybe because he has wonky mechanics? Maybe it's a combination of all those things? Sadly, if you're looking for those answers, I can't help you. Bane is quickly rising on my board and is someone who I believe has a long career in the league ahead of him.
We'll start by addressing the elephant in the room. Yes, Desmond Bane is absolutely built like a linebacker and shoots like that football player who comes into open gym and says "Let me see that real quick." We've all been there before, and we all know that guy, but don't let the image fool you. Throughout his four years at TCU, Bane has shot 43.3% from deep on 575 attempts. Not only are the numbers flawless, but he shoots it with a ton of range and versatility that is evident everytime I watch TCU. Despite his frame and build, Bane is a high-level shooter with potentially the softest touch in the class.
The shooting is obviously very impressive, and I value elite shooting more than the next guy, but Bane's playmaking is a major reason why he's skyrocketed up my board. Even though he'll likely be used in a rescinded role at the next level, these creation flashes are extremely encouraging when projecting Bane as an NBA wing. Shooting is very important in today's league, but if you can't make decisions in advantage situations, that elite skill begins to get neutralized. Not only is Bane making decisions at an advantage, but he's consistently manipulating the defense with his eyes and shooting gravity in the pick and roll.
This was mainly to highlight Bane's unique offensive game, but I couldn't leave without talking about his off-ball defense. His advanced numbers don't pop by any means, a steal % below 3 and a block % below 2. However, metrics don't always tell the entire story, especially on defense. I'm hardly the first to recognize this, but Bane's interior rotations are second to none. He is always alert, communicating cutters to his teammates and sliding over to affect shots. Most of his defensive impact doesn't show up in the box score, but it will be more than valuable to whoever drafts him.