With college basketball officially cancelled for the rest of the season, I took the time to catch up on some games that I missed throughout the year. Like everyone else, I have a ton of time on my hands. Tasking myself with "work" not only helps the hours go by, but also provides some entertainment. These journals haven't been as frequent as I had hoped, but expect a decent amount of content given the current circumstances. Now that's enough about me, here are some of the guys who have caught my eye in recent weeks:
Tyrese Maxey, Slicing And Dicing
The Kentucky combo guard was one of my favorite prospects coming into the year, and while some aspects of his game have underwhelmed, his finishing around the basket has not. Throughout the year, Maxey's production has somewhat fluctuated.
Sometimes the three ball has been there, but it's mostly been absent as he finished the year at 29.2% beyond the arc. His mechanics are decent, a quick one motion release without a super high arch. I'm a believer in Maxey's pull up game at the next level, he gets into it smoothly and has impressive footwork to get on balance. However, his catch and shoot numbers aren't as persuasive. On "No dribble spot up jumpers" Maxey is shooting just 30%, which ranks in the 34th percentile nationally. Along with the catch and shoot numbers, Maxey's biggest issue this year has been his lack of advanced playmaking. Standing at just 6'3", Maxey has the ideal size of a lead guard in today's NBA. But, due to his playmaking woes, I'd be pretty reluctant to have him initiating offense as a primary at the next level, which puts even more emphasis on his off-ball value (catch and shoot). To reach his offensive potential as a three-level scorer who can co-exist with other creators, Maxey will have to iron out his catch and shoot three ball. With that being said, Maxey is already an elite finisher whose strength, body control, balance and touch will all translate to the next level.
When you watch Tyrese Maxey, his brute strength as a combo guard will immediately jump off the page. He is absolutely fearless when attacking shot blockers, while he lacks some vertical pop, Maxey is probably the best guard in the class at absorbing contact and finishing through it. In a class where many guards are contact-averse, Maxey's willingness to go chest-to-chest with seven footers is entertaining and encouraging. The Kentucky freshman isn't just great at the rim, he excels using floaters with either hand off either leg. This "In between game" will be key for his success at the next level, as the shot-blockers get taller, longer and stronger. As I mentioned above, Maxey's body control and balance are second to none.
Skylar Mays, Playing His Way
I've talked about my philosophy in this class time and time again. Yes, it's a very weak draft class because it lacks the superstar prospects that will change your franchise. But, if teams approach the draft with the correct mindset, they can add a valuable piece that contributes to winning basketball. As far as underrated prospects go, Skylar Mays is at the top of my list. He was recently listed at 44 on ESPN's top 100 prospects list and checks in at 51 on Tankathon's big board. I have him as a first round prospect.
Mays is old for a prospect, he's played four years of college basketball and he'll be 22 at the time of the draft. That obviously limits his upside as a prospect, but as I mentioned before, philosophy and approach is key in this draft. Once you get past the top 20, the likelihood of drafting a star is virtually slim to none, but there are very solid rotation players available, like Mays, who will be ready to contribute from day one.
On top of being an older prospect, Mays lacks burst getting downhill and vertical explosion at the rim. He isn't an eye-popping athlete, but he sports a built frame and more than makes up for his speed deficinces with skill. Mays won't blow by you with straight line speed like his SEC companion Kira Lewis, but he routinely beats his defender thanks to his crafty change of pace and shifty handle.
I'm also a very big fan of Mays' IQ. Advanced drop offs after drawing the big are common occurrences, and he always plays at his pace. There are times when his lack of lateral quickness will burn him at the point of attack, but for the most part, Mays knows how to use his frame to keep his handler in front. He has a tendency to gamble for plucks at times, but when reeled in, he makes some impressive defensive plays. Mays stays active in the passing lanes and sometimes baits the offense into making the pass he can intercept. At the end of the day, I think he has a good chance at becoming a solid rotation player, and in the range he's projected to be drafted in, that's a big win.
Malachi Flynn, No March Bump Necessary
Every year we see prospects burst onto the first round scene due to a deep run in the NCAA Tournament. The San Diego State Aztecs were for real, and it seems like mainstream draft sites were waiting for Flynn to do it on the national stage before ascending him into the top 30, but not here. Flynn quickly became one of my favorite prospects in the past six weeks. Not only do I love his calm, cool and collected style of play, but I think he has bankable skills that are valuable in today's NBA and make him far more intriguing than most are making him out to be.
It's worth noting that like Mays, Flynn will be 22 at the time of the draft and likely doesn't have a star ceiling. However, his combination of pull-up shooting and pick and roll playmaking create an easy path for him to be an effective lead guard in today's NBA. We've seen what electric pull-up shooters can do for an offense at the next level, it completely opens up the floor and draws the defense out to respect you. Since Flynn isn't bursting with athleticism, the rest of his game is derived around his pull up gravity.
He's only 6'1", but I also like his potential to impact the game off the ball. Flynn is a knock down shooter off the catch (43.1% on spot up no dribble jumpers) and an intelligent ball mover.
Devin Vassell Or Ed Reed?
The Florida State wing quickly became my favorite *non-guard* prospect in all of college hoops, watching him probe in help and sniff out passes that are otherwise routine is absolutely fascinating. Standing at 6'6" with what appears to be a near seven-foot wingspan, Vassell has the requisite tools to be an elite defender, but it's crucial to include that his elite IQ is what truly unlocks his defensive potential.
His feel pops off the film in multiple aspects. Vassell consistently baits opponents into meeting him at the rim in transition (which he usually wins) and is obviously an incredible team defender in the half court.
He is scoring 0.85 PPP on off the dribble jumpers this year, placing him in the 68th percentile nationally. That number is impressive for a wing in it's own right, but when you consider that Vassell was in the 1st percentile last year and nearly octupled his attempts, it's nothing short of a wild development. For that type of jump in one year, Vassell is pretty fluid and gets into his high release point pretty easily. He isn't the type of wing to size up defenders and put them in quicksand with dribble combos, but he uses his lengthy strides to get into one-dribble pull ups effectively.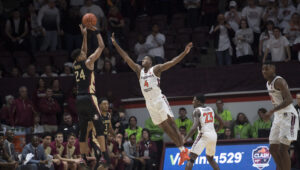 Vassell's release point is critical for his current production and future projection as a shooter, closeouts just don't seem to bother him. He is also very reliable off the catch from deep, ranking in the 87th percentile. In two years at Florida State, Vassell is a career 41.7% three point shooter on 168 attempts. High impact defensive wings with (decent) shooting indicators often get pegged as a safe prospect because of the 3&D archetype. However, some of those guys get too much benefit of the doubt in that aspect and their offense is too detrimental for them to even play in the league. With Vassell, that's not a concern. He'll be able to space the floor from the jump and expand from there.