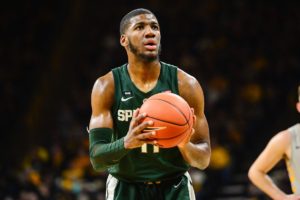 Michigan State's Aaron Henry (The Only Colors)
Welcome to the first volume of my Draft Journal. Every two weeks (or so) I'm going to publish a new installment. Over the course of the year I take a ton of notes, I wanted to create a column that is timely and educational. Each volume will contain a few takeaways from the two weeks leading up to its publication, and I'll do my best to spread the love to as many prospects as possible. I owe a huge shoutout to everyone in the Draft community for supporting my work and providing insightful takes every single day. Here is volume 1 of my Draft Journal.
Kira Lewis Jr. Blazing With Speed
Lewis was the youngest player in college basketball last year, so it's no surprise that the game looked a little too fast for him at times. Especially when you consider the fact that his game is somewhat predicated on his wicked first step and end to end speed. A year ago, Lewis often found himself driving with no plan, while his decision making is still far from perfect, he flashed some impressive wrap around passes around the weak-side help, rather than forcing up a contested rim attempt. While he hasn't flashed a ton of advanced playmaking or ball handling in the half court, he is very effective in transition. He's at his best when getting downhill, and visibly wants to run.
In this clip, Lewis goes end-to-end while changing pace. He does a great job of engaging the big and then exploding out of his move. Even if he doesn't develop as a primary, I really buy his jumpshot and think he would still project as a good fit next to a bigger initiator (Doncic, LeBron type) due to his shooting and secondary playmaking ability. As I noted before, Lewis has a very explosive first step that results in clean blow byes which complete his scoring arsenal. He's still very young, learning to control his speed in tight spaces will be huge for his development. I like what Lewis brings to the table, he's one of the best scorers in the class, and has a real passion for the game.
Nico Mannion, Making Shots and Talking Trash
As most of you know, I was very high on Mannion coming into the year. I loved his pace, intelligence, shooting, touch and overall skill. He's showed a little bit of everything in his brief Arizona career so far, but I want to highlight his shot-making, which has been absolutely incredible. In my profile piece over the summer, I noted how impressed I was with his shot diversity. Mannion is comfortable pulling up, spotting up and coming off movement, which holds the defense accountable at all times. It's certainly a small sample size, but Mannion has been very efficient from the field so far (54.5% FG, 50% 3PT and 68.5% TS). He's getting it done in a variety of ways, which is very encouraging to see. While I think he's a better athlete than he gets credit for, it's no secret he's not throwing down an eastbay in transition. At lower levels, Mannion used his change of pace and touch to make up for athletic limitations, and that has continued in Tucson. Here, Mannion does a great job of getting low around the screen and dipping his shoulder, leaving the defender no space to get through. He attacks the big man in drop coverage, and lets a perfect floater fly once he sees the defender on their heels. Due to his athletic limitations, his in-between game is essential. Throughout his high school film, Mannion was weirdly comfortable operating out of the low/mid post. In my piece, I compared it to Jalen Brunson at Villanova. After a quiet first half against New Mexico State, Mannion wanted a bucket. Instead of calling for a pick, he backs his defender into the spot, and hits a contested turnaround jumper. Even I was skeptical that this usage would continue at the collegiate level, but it's worth noting that Mannion is obviously very comfortable there.
This pull up three has been the most impressive clip so far, he stops on a dime and gets great rhythm with a little hang dribble. If you watched Nico at lower levels, you know he doesn't back down from anybody. The Shadow Mountain game was my personal favorite, Mannion was jawing back and forth with their entire team throughout the game, and he had the last laugh when he nailed a game winning three as time expired. After eight straight points against New Mexico State, Mannion had some words for his defender, the referee didn't like it and Nico was given a tech. Yes, he cost his team two free throws, but they were already up 20, and that kind of swagger is what makes Nico Mannion unique.
Aaron Henry Doing a Little Bit Of Everything
Aaron Henry is Michigan State's second most important player, yet, he doesn't seem to get the love he deserves. The 6'6" wing is exactly the guy you want in today's NBA, he can shoot, defend and make decisions. I'm a huge Henry fan, I was very intrigued by his flashes last year, and hoped he could continue to build on them with higher usage. His box score numbers don't jump off the page, but Henry has nearly doubled his scoring on the same amount of minutes. I expect his minutes to definitely increase as the season goes on, he only played 23 minutes in their blowout win against Binghamton, and he was battling an ankle injury that limited him to 24 minutes in their road win at Seton Hall. Even that short time, it's blatantly obvious that Aaron Henry makes good things happen. It's been a very small sample size, but Henry has been very efficient shooting the ball. His three point mechanics are legit, and at the very minimum I buy him as a 3&D wing. His defense has been absolutely incredible, through three games he has a STL% of 4.0 and a BLK% of 6.7, which is off the charts for a wing. Yes, I know it's a very small sample size and those numbers must be taken with a (couple) grains of salt, but the numbers back up what I'm seeing, Henry has been everywhere on defense. On the ball, he's applying pressure and making the ball handler uncomfortable. Off the ball, his rotations are flawless and he's using his length to disrupt passing lanes and rim attempts. The aspect of his game that I think needs more buzz is his slashing and decision making ability. Henry projects as a more than competent secondary or tertiary initiator who can attack close-outs and maybe run a side pick and roll. This season, Henry has been smart and effective when distributing from within the paint.
Henry gets downhill and attacks the closeout, when swarmed in the lane he gets the defense in their with air with a head fake, before delivering a perfect drop off pass. He is very capable of recognizing the help (and sometimes even the helper's help) and making the right play. When getting to the rim, he's also had some very impressive finishes. Henry is strong with the ball, and doesn't get bumped off his spots often. Overall, Aaron Henry is a very well rounded player who contributes to winning, he's one of my favorite prospects at the moment and I hope he garners more mainstream attention as the season goes on.
Tre Jones, Returning To Howard Pulley Form
Sometimes, you just can't unsee what you saw at lower levels. In Jones' case, I knew he could take it up a notch in terms of his approach to the game. Last year, Jones was a lockdown defender and positive facilitator, but he was passive and timid on the offensive end. UCF almost pulled off one of the biggest upsets in NCAA Tournament history by simply leaving Jones open in their zone, and he hardly made them pay. He had a good shooting game in the Sweet 16 against Virginia Tech, but he was the 4th wheel, Jones was never the reason they lost or won. I was a huge advocate for Tre last year and thought he was their second most important player all year, but through the Draft lens, I wanted to see more. When he officially announced he was returning for his sophomore season, I wasn't expecting him to average 20 points per game, but I really wanted to see his aggression level return to what I saw at lower levels. I wanted to see Jones' defensive tenacity translate to getting downhill to the rim and confidently stroking threes. After a couple games of getting into the flow, Jones finally looked like his EYBL-self against Georgia State. The Panthers aren't North Carolina, but it was a close game and Duke needed every last bit of Jones' effort. He finished with a career high in points (31), field goals made (10), field goal attempts (19) and free throw attempts (10). Tre is a below average athlete by NBA standards, but he has good strength and touch around the rim that allow him to finish.
Here, he is in constant attack mode. Jones gets his defender to open his hips and finishes him with an and-one. He is also extremely crafty with his floater and pull up in the mid range. At the end of the day, Jones' catch and shoot three point efficiency will determine how high he can get in June. But for now, I'm thoroughly enjoying Jones' aggressive and confident approach.
Isaiah Joe, Letting It Fly
As a freshman, Joe was an absolute deadeye shooter, but he was a little too one dimensional at times. As a sophomore, he has continued his lights out shooting from deep while also expanding his offensive arsenal and creating havoc on defense. Through four games, Joe is attempting 9.8 threes per game (not a typo) and is making 41% of his attempts. At this point, team's know he's a lethal shooter and will do anything to run him off the line. The fact that Joe is getting off close to 10 make-able threes every single game is a testament to his shot diversity and ability to create space on and off the ball. His release is beautiful and his mechanics are textbook, he's very capable shooting off movement. Joe also is also very aware of how to move and support the driver, simple floats and rises might not seem like a big deal but they're essential in creating clean looks from deep. He's comfortable using his step-back to create space, both from three and in the mid-range.
It's a small sample sample size but Joe is already up 6% on twos, he's knocking down pull-ups and throwing down dunks like this one. Against Texas Southern, Joe had five steals while showcasing impressive anticipatory skills. If he continues to be active on defense and progress inside the arc, Joe might find himself in the top 20 when it's all said and done.